Why do we keep falling for this???
If you have seen this show up in your Facebook feed…DON"T FALL FOR IT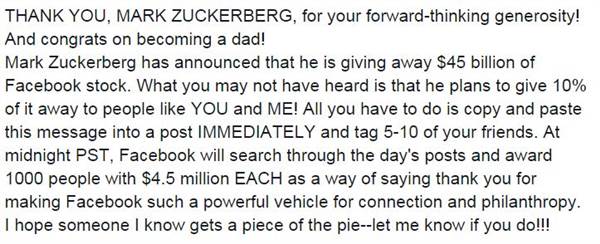 It's a hoax– regardless of where people claim to have seen it or who told them about it, it is still a hoax.  True Mark Zuckerberg is giving away almost all of his fortune to a variety of philanthropic organizations but individuals who would only be known for copying and pasting a post and then tagging their friends don't qualify for non profit charity.
However, this is not the only hoax people seem to keep falling for.  So let's clear up the air a bit.  ALL of these items listed below are hoaxes.  Don't like, share, copy or paste or any thing else.  These posts don't accomplish anything other than giving the host page access to you.  At  best, you just handed over all of your demographic  information to whoever is running the page responsible for the post.  At worst, your personal page could be hacked as a result.
Facebook will NOT be giving money to any child suffering from child abuse, cancer, or any other dread disease based on the number of likes or shares.
You cannot pay Facebook to keep your information private.  Just by signing up you agree to give them access to all of that information and, yes, they do use it to make money
You cannot prevent Facebook from using your images posted on your wall regardless of how many posts you have filled with legalese-type speech.  You have already granted Facebook access to all of that in your user agreement that cannot be rescinded.
Sadly, Facebook is not giving away a car regardless of how many times you like a post
The Facebook Graph App Privacy is bunk too
Remember if something seems to good to be true it probably is.